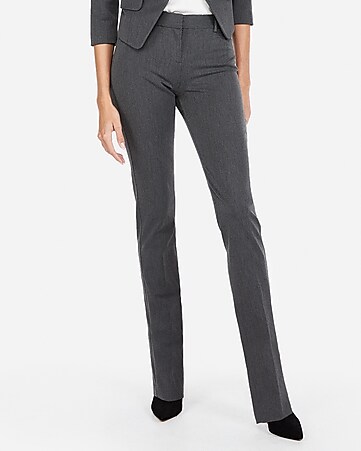 It hurts to look at these pants with the tight crotch and waist so tight it is pulling the zip. These must be great to sit in.
I cannot tell you how long this blog post has been simmering. It clicks in my mind NOT every time I see a poorly fit garment but every time I see someone say "I love this top/skirt/whatever that you've made and it fits perfectly" and it doesn't. Then there are the times someone posts a picture of themselves in a garment with their bum having an uncomfortable wedgie, wrinkles over the boobs, inches and inches of horizontal fabric at the back waist and all their friends telling them how beautifully it fits. I would never spoil their proud moment but they are walking away thinking their garment fits and it doesn't, at all.
Let's start by saying this post is not a blame game or a judgement of the sewists and their admirers. It is about a lack of education. As stated, I have wanted to post about this topic a long time and one of the things that hung me up was the lack of information on the subject. It is not easy to find this info. But let's go back logically even a bit before that. Do we even know there are Fit Standards?
Yes, Virginia, there are Fit Standards. I made it a project to find them. Did anyone teach them to me? Not directly. Did I see poor fit on myself? In the beginning only if it looked "stupid" or felt uncomfortable. I saw a wrinkle. I pinched it out, end of fitting. One suggestion for newbies at this game is to join up and frequent the
Fitting Woes Forum
on Pattern Review. It will really open your eyes. Posters with wrinkles and poor fit that they can't seem to understand post their pictures, dressed in the garment, and then experts kick in with what exactly the problem is and how to correct it. Often we know there is an issue but just what is it? Is it a forward shoulder, dowager's hump, knock knees or some other awfully named fitting challenge? Members are welcome to post their own pics and ask for help and the group is very generous with it's positive commentary. Reading this often will help you develop an eye for what is right and wrong. Before you know it you will be standing in line at the supermarket wanting to fix those butt wrinkles on the pants of the person in front of you. But this is just an awareness lesson, albeit a very good one. If you should decide to post a pic and ask for help know that you should keep it simple with a straight up front, back and side full length picture of you in the garment. No need to raise arms or get in in odd positions. It only makes it harder for the experts to diagnose your issue.
Oh, I saw so many pics that would make my point in this article but did not want to post them for obvious reasons. I don't want to hurt anyone's feelings. I did search retail garments and marketing pics for patterns for examples and that is what is shown.
Pattern Review Fitting Board can be a start but I wanted more solid, proven information and pulled out my sewing books. I went to my two favorite fitting mavens, Nancy Zieman and Sarah Veblen. Their books were typical of the many more I searched through. Great advice on how to fix your specific wrinkle/tight issue. If you knew you had sloping shoulders, large bosom, protruding derriere, here's what you do. But no book, other than the few I will mention, started with a discussion, picture, or anything about what a well fitting garment should look like, what we are shooting for in our finished garments. Is that unnecessary in this age of sweats and yoga pants? Maybe, but even those should fit you properly or you risk the slob effect. I dug further.
Yes, you can avoid the whole issue with clothing that is cut super large but do you always want that look?
My first reference to what she calls "standards for a perfect fit" comes from Sandra Betzina in her book, "Power Sewing".
In a nutshell, she uses one page to tell you that "to fit a garment perfectly start with the high chest area." and gives great tips about the garment fitting smoothly in specific areas, where the shoulder point is naturally, sides seams being perpendicular to the floor in pants and more. This was an introduction to the concept, IMO, but gives one only a taste of what good fit could be. Her key word: "smoothly". She suggests a custom fitting class for yourself as time well spent. This is just one page but on the right path.
I looked through all my books, really nothing in contemporary books about what constituted a standard for perfect fit other than Betzina's words. I decided to look back. Good move. A bit of disregard had to be paid to style trends from past decades but the concept of what great fit is was definitely found in two books and much certainly applies today. The first book is
The Bishop Method of Clothing Construction,
revised, C1959. Edna Bishop was the sewing queen of her day and her mantra was grain, grain, grain and how it effected everything done with your sewing efforts. She has a chapter in this book called "The fine art of fitting your clothes" and it is very good. She bullets 16 points that make for her perfect fitting garment. I won't copy those all but will list a few highlights. This book is old enough that I can copy word for word and these are hers.
* It fits smoothly without wrinkles, strain, or bulges and without sagging. It hangs gracefully and smoothly from the shoulder and the waistline. It should never have to be pulled into place.
*The neckline should not ride up.
* The armhole should be one inch below the armpit.
*Front bodice and bust darts STOP SHORT of the crown of the bust (apex) but are in line with it. (1959 here peeps. Who says vintage dresses have darts to the apex?)
*Hip darts STOP SHORT of the fullest part of the hip.
*Side Seam hangs perfectly straight from armhole seam to hemline.
This is just a gleaning and she provides much more detail in the book. She insists you can't get a good fit without getting the right size pattern, using the best style for your figure, wearing the proper undies, underlining properly and much more. It is definitely worth checking this vintage book out of the library to read Chapter 8. A neat quote from Ms. Bishop: "Fine fitting is one of the main differences between poor and good dressmaking."
Next I reached back for one of my all time favorite sewing books, also vintage, and in my opinion, priceless! This is
"Fashion Sewing for Everyone"
by
Adele P. Margolis
. The diagrams in the book are dated to the point of being cute but they are simple and they get her points across very clearly. Best of all, Ms. Margolis is an incredible teacher. She is very clear, articulate and posesses an amazing sense of humor that is widely seen throughout all of her books. On ease, she says "just the right amount of ease is the goal. We don't want you flapping around like a scarecrow, like June, bustin' out all over." There are great drawings to simply illustrate how grain effects fit and how it must appear in a garment. Some of her thoughts on fit, direct quotes from Margolis:
* The waistline seam of a garment should be about a 1/2 inch lower than the natural waistline.
* All circumference seam lines are curved to follow the natural curves of the body: neckline, bustline, hipline, hemline, etc.
* If fitting your wide shoulders as per the rule makes you look like a football hero in full regalia, by all means set the armhole seam in to narrow the shoulders.
Don't you just love her wit? While Margolis will teach you a lot about fit and have you laughing through it, this still wasn't quite what I was searching for. I wanted a list of sorts, something sewists could refer to when they look at their muslins or basted garments and don't quite know what is wrong with it but know that something is. I wanted something compact and organized. Most of all, I wanted something that professional garment makers said were the Standards of Fit, a voice of authority. Of course this all had to be in understandable prose as well. I went back to Dr. Google for the umpteenth time and I think on page three of results on a recent afternoon found the Holy Grail!
*******************
This post has turned into something filled with a lot of info and therefore quite lengthy. I've decided to do it in two parts. Please share your thoughts in the comments and come back for Part Two. Thanks for your patience,,,,,,,,,,,,Bunny.
ETA:
I will be away this long holiday weekend back to see friends in NY which I am really excited about. There is also 2 feet plus snow predicted there and here so it could be interesting! I have been putting the final touches on the next blogpost and it should be up once we get back early next week. Thanks for you patience. May you all be safe and snuggly warm in the cold weather!...Bunny