I am so proud of my grandaughter. She is eleven and we have just started sewing lessons. She is very artistically gifted and loves and excels at all things crafty. She has wanted to learn to sew on a machine for some time. Her other grandmother and I got together and made her birthday special with all that she would need for a long sewing life. Her "Momo" got her a
Brother cs6000i
and all of it's add ons, the additional table, every additional foot, etc. "Bunbun" contributed all the peripherals, a great carrying case for her sewing visits, various scissors, patterns, markers and other fun notions we all love.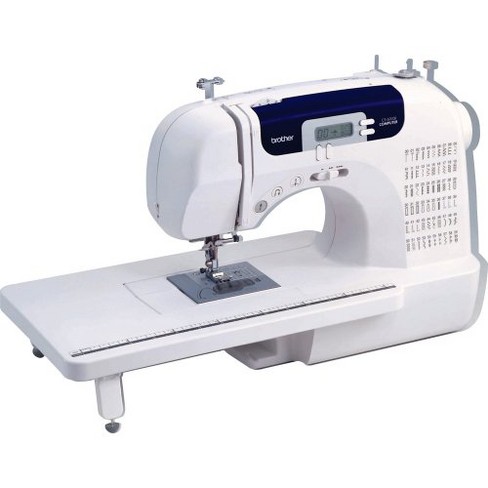 The machine has been ensconced in my workroom in it's special place next to mine so we can sew together. It was purchased after reading lots of reviews and consultation between Momo and Bunbun. We spent our first afternoon getting it out of the box and putting it through all of its paces for basic sewing. This machine got great reviews on PR. I was very leery of the price range but if you want a great backup this is it. I would not hesitate to buy this machine at all. I think it is an excellent value. What I like about it the most are the pictures, which you can't see, that clearly show you how to fill the bobbin, thread the machine, and such, right on the machine. I realized also how much I missed sewing with a large removable extension table. It has my Pfaff beat on that one but that was an add on. I LOVE, and so does Carly, the adjustable speed. When I had her doing practice stitching on paper, she would dial down the speed to maneuver the tight curves and they came out perfectly. She took to this like a duck to water. Not once did I have frustration with her managing the machine and Bunbun made her do everything so she could learn. The only issue I have seen with this machine, and the manual is honest about it, is the needle threader. It works just fine, to a point. We threaded the machine with Coats and Clark thread for our project. The auto thread pulled the thread through the hole and it was shredded somewhat. I read the manual and it said, paraphrase here, "if you are using inferior thread, manually insert the thread into the needle." So, there!!! I will try another brand next time! All in all this is a great starter machine, back up machine, and then some.
Once we had the machine dealt with our next block of time was spent with pattern work. We used a Green Pepper pattern that we found on the spinner rack at Joanns. It is called the
Polar Beanie
and has several variations. We did the basic Boarder Beanie.
There was a lot of discussion of the envelope, a lesson in how to neatly fold it to get it back in the envelope. This worried Carly as she is VERY organized. Then it was onto grain, selvedge and the actual pattern cutting lesson. This is a great pattern for a beginner project. It goes quickly and teaches the very basics. For fabric, we used the Luxe anti pill fleece in the thinner weight. This was suggested when I asked the associate what the best quality fleece would be. It is nice. Also, , it wasn't a major issue, but fleece is not the greatest fabric to use for your first project. I would suggest a nice cotton knit next time. That being said, I taught Carly how to use a "cheater" cloth piece to start her seams so they would not get stuck in the bobbin and also taught her about using special needles and such. I actually showed her the difference using a universal needle and a stretch needle made and how to "hear" the difference in the sound so she would know the needle was wrong.Such a quick learner and she mastered the cheater cloth technique perfectly and we had no issues. We straight stitched the seams with a bit of stretch as she sewed and did a triple zigzag to finish. She liked that. Once done, she put her hat on, and wore in my home for the next three hours till her mom took her back to Boston and had it on all through that. She loved her hat and we cut one out in navy for her twin brother.She has it all marked, cut and ready to stitch on her next visit. Her lessons also consisted, before we started anything, a fun visit to fleece heaven, aka, Joanns, for fabric. I taught about maneuvering the fabric store, looking at bolt ends, the pattern books and table, the coupon app on the phone, and a grand tour. We picked out a pattern for our next project, a cute skirt and she is leaning toward one of those fancy denims. As soon as her brother's hat is done we will move on to that. I am teaching her to work and focus on one project at a time. For both of us it has been a really positive experience. If there is one word to describe Carly's personality it is "Unflappable". This made my job easy and let her love every minute of the process. She didn't tire, get frustrated or have difficulty with immature fine motor skills. Her retention was impressive as she did the second bobbin winding of navy thread totally on her own and then set it in the bobbin case. We are shooting for every other weekend. Mom and Dad have a second home up in New Hampshire not far from us so this is very convenient. I can't wait to shop with her for the skirt. I have such fond memories of fabric shopping with my own grandmother. And so it continues.....................Bunny