In recent years I've referred so many to videos and tutorials by some of our biggest sewing experts. These are people who have been editors in Threads magazine and been published in sewing magazines internationally. Some have had their own television programs on sewing, lovingly videotaped on our VCRs in those early days before youtube and DVRs. Several have written excellent books on our wonderful art form, the type that are staples in our sewing spaces and that we depend on so much for clear and solid instruction. Several had done all of the above or several as with genius often goes a lot of hard work, for years and for many, decades. Year after year they amaze us with their knowledge, skill, creativity and generosity.
As I try to help newer or returning sewists I refer back to this group of "Stars" all the time and pass their brilliance on to those who need it. As I pondered putting the work of these artists, the links they are already sharing, into one convenient page, it dawned on me that these are our "Stars" and this post is my way of giving them their much needed Academy Awards of Brilliant Sewing and Teaching. I don't have a lot here because, as with any award, this is for the best and most notable. It is also for the most helpful tutorials. How do I know they have been the most helpful? The number of views they have gotten over the years, for one. Then there are the clicks on Pinterest as well as the immediate appreciation when offered to someone I don't even know on a forum or FB sewing group.
Our "Stars" share some commonalities. They are all great teachers. Not everyone who can sew brilliantly is a great teacher. These people are. They reduce the issue to the simplest terms in clear language. They are all warm or funny and with personality to engage us and they are incredible at what they do. I see so many youtubers and bless 'em, they work hard and many are quite good. I will leave it at that and just say they are not in this league.
Without further ado here is the list of tutorials, video-ed and posted by them or shown by others giving them full credit. May we have the envelopes, please?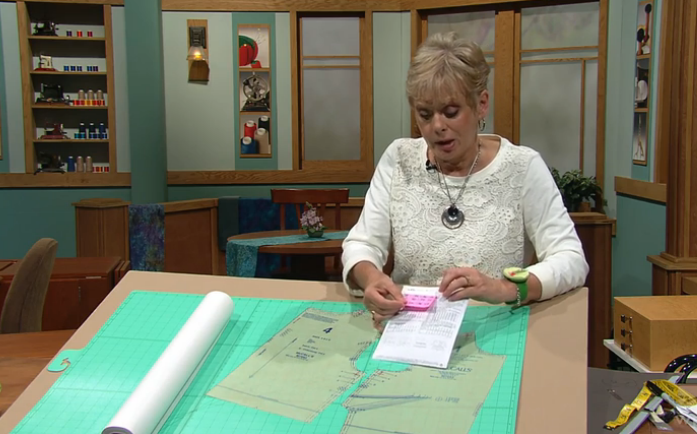 #1 - "Solving the Pattern Fitting Puzzle, Part One"
Not a day goes by when I have been on the web and a sewist screams, is frustrated, or politely asks about how to get the right size pattern. These always generate a huge response which often just confuses everything. Eventually this video from Nancy Zieman is the answer given by someone and will suddenly generate understanding, support and clarity. There is enough testimony about her fitting techniques to start a tent revival. So, if you wear a size 16 and don't get why that size 16 pattern doesn't fit you perfectly, YOU NEED THIS VIDEO from sewing guru, Nancy Zieman.
#2 - "The Kenneth King Hem".

This is a tiny hem that is easy and quick to do. You would use this in place of a rolled or baby hem on any lightweight fabric but particularly on chiffons, lames, fine silks, etc. It is just the answer for prom gowns and bridesmaid dresses. Anyone can do this without frustration. Years ago this blogpost had over 50,000 hits on this technique. I stopped counting at that point. I give Professor King full credit for this. You can link to see my tutorial on his brilliant technique. I take no credit as I had nothing to do with it's creation. I would share his original link which was up for years but is now behind a pay wall. Kenneth King Hem
#3 - "Sarah Veblen's Neckline Binding for Knits"
Let's face it, we have all had the floppy, stretched out knit neck binding, maybe even a lot of them. Do they ever really lay perfectly flat all the way around? Well, once you learn Veblen's method, they will! This technique is such a game changer. Seriously, you will experience perfection with her method and it is not hard. Again, Sarah shows the clarity of a great teacher and you will achieve success with this video,
This is not your Momma's divide in quarters and stitch. Follow Veblen's method and you will be forever grateful.
#4 - "Kenneth King's Invisible Zipper Installation"
For years I followed a well known and respected invisible zip tutorial. It was the simplest I could find. I still seemed to get that dimple, however, at the bottom of the zip. Professor King's video will rid your inviz zip installations of that dimple ever more! Again, he is an amazing teacher and this is clear and easy. You will need a notion to help but ever since I have used this technique my zips have been smooth seams and truly invisible. This is the only way to go and I have recommended this technique to so many and have seen many other sewists do the same. Rush to watch!
#5 - "Kathy Dykstra's French Seam Tutorial"
Kathy Dykstra, reknown teacher of heirloom sewing, can sew as well as teach how to sew a French Seam in all of it's glory. I have seen French seams used to the sewist's dissatisfaction on corduroy trousers and other inappropriate applications. Use them in your lighter fabrics, your viscose rayons, your lawns and batistes. Remember the goal is the smaller the better, not wide, clunky seams, as you are inserting bulk in the seam tube to make the seam strong and beautifully finished. Watch Kathy's brilliance and gifted hands as she teaches you the correct method of using and sewing beautiful French Seams.
French seams by Kathy Dykstra
I recommend this to all struggling to get their French Seams right.
To these five techniques and to Kenneth King, Nancy Zieman, Sarah Veblen and Kathy Dykstra, congratulations!!! You have won, in my opinion, with these techniques and your great teaching skills the Academy Awards of Teaching Sewing. You help make a new generation of sewists better and even great. You are generous and you are gifted and we so appreciate that. Thank you and may you continue to grace us with your knowledge and skill.