Next Level Sewing, #1, calling all Sewing Newbies!
Around the blogosphere lately I have seen a fair amount of chatter regarding sewing books. There are so many new sewists and I personally find that thrilling. But it seems many newbies now want to up their game and pick up the next level of skills. On forums there is talk of the lack of middle level sewing manuals. While I disagree with that thought and will talk more about it in a moment, I do think many of our newbie sewists have really caught the passion and are looking to better their skills. They don't want to sew couture and many don't have the time for epic garment sewing at this stage of their lives. Even if they did "To everything there is a season and a time for every purpose........" While one day couture level sewing may intrigue today's newbies, many realize they need to learn a bit more of the every day sewing before jumping that broom.
It energizes me to see our newest sewists looking for the next level of sewing. It is actually something that has been really calling for my attention for some time. I've started keeping a list of things that come up as I am sewing that might be of interest to someone who wants to get better at this craft. What I have read on several blogs and forums is that the newest sewing books are not filling that need. Reports are many are one dimensional, or are single project oriented or just simply have the basics. Many books I've seen ( remember, I work in a library) are rehashes of the same ole, same ole. Do you want the info A-Z, or the one with a ring binding, or the one with the funky trendy artwork? Many new sewists are wanting more. It's exciting that new sewists want to get better at this passion. It makes my heart skip a beat.
I've really thought about this a lot. As I am working on my own projects, often simple practices come up that really make a difference. These
are not
epic sewing moments, but the small little techniques that you don't see mentioned in patterns or sewing books. They are the things the patterns assume you know. They are what you learned the hard way or from a dear mentor. So my list began. And once that list got started I knew I would have to address this on the blog.
The things I would love to share are mostly pretty simple. They are all those techniques that, as a young sewist myself, I thought were a waste of time, too much trouble, or just didn't seem necessary. Some are methods that I learned over the years as my sewing progressed. Now they are techniques I can't imagine not doing as they add so much to the finished quality of a garment. Nearly all take little extra effort but make such a difference in the final result.
With all that hoopla I have decided to write a series on "Next Level Sewing". It is intended to help our treasured new garment makers produce more professional results. No promises here but the plan is to publish this series once a week, on Mondays. So tell your sewing friends, those who are just beginning, those returning to sewing after a hiatus and all your sewing friends that on Mondays La Sewista will be having her series: "Next Level Sewing". If there is anything particular you would like addressed, please let me know.
I am going to start this first post in the series discussing books. There are tons of newbie books out there. Most are very enthusiastic and inspiring. They often are one dimensional and you read them feeling like something is left to be said when you have completed the book. It's as if you learned a lot about making tote bags, or aprons, or skirts, or hats, or whatever, but did you really learn to sew? Lots of books like this are out there and my suggestion is to get your new sewing books from the library. Unless money is no object, save your dollars to invest in some of the classic writings as well as some vintage sewing books. In case you're wondering how I formed this opinion, my work in the library gives me great access to books and I process all the incoming new books personally as well.
At the other end of the spectrum are the highly detailed couture or textbook type sewing books. These really should be read. Again try them at the library but definitely invest in one or two so there is a reference for that special garment you know you will make one day, a wedding gown, prom gown, little black dress, or a couture inspired suit. These books are fun to read and inspire also. They will be there when you need them. So a newer sewist may want to have one in her sewing library for now even if she/he is not ready to try couture. It's always great to have inspiration as well as something to strive for. My recommendations would be anything by Claire Shaeffer, Kenneth King or Susan Khalje.
So what's the in between you ask? the meat of "middle" sewing? My recommendation for the newbie sewist is GO VINTAGE! Many new sewists are fans of vintage clothing so why not vintage sewing books? Other than a few newer notions and tech fabrics, sewing has not changed much for a long long time. The garments and styles change but easing in a sleeve is the same concept and skill today as it was in those gorgeous 1930s tailored suits of yesteryear. Matching plaids is the same skill today as it was many decades ago. Edith Head, my favorite vintage designer, had skills that would make her an excellent designer today as well. The vintage books may have a different vibe but the information in them is just as good today as when it was written and many are specifically that next level of sewing reference that the newbie is looking for.
Look for them at your library and/or pick them up on Amazon or from
Alibrus.
Those two sources vary wildly in their pricing so be a sharp shopper. Read all the reviews. Because these books have been time tested, no gushing faux designer worshippers are reviewing the books and stacking the reviews in their favor. These are time tested tomes. Try them out from the library. Then invest. Some of my favorites:
Anything by Adele P. Margolis.
She has numerous books and is a sewing icon who passed away last year in her nineties. She is very easy to understand, hilariously opinionated, and fun to read, not what you'd expect from a book teaching sewing. I recommend any of her books and keep your eyes peeled for them at thrift shops and yard sales. While the pages may be a bit yellowed and the illustrations a bit of a hoot, these are priceless. I guarantee you will learn a lot, never will feel overwhelmed and will enjoy her writing style. She's an amazing teacher.
The Singer Sewing Series
by Cy Decosse
These books came out in the 80s and 90s if my memory serves me right. They are just as relevant today as they were then. What sets this series apart from other and newer sewing books is the clarity of the teaching and the phenomenal photography, some of the best I've ever seen in a sewing book. The pictures are glossy, in color, large, and very very close up. Explanations are simple to understand and work perfectly with the photos, no need to reference or back track. There are many books in the series. My favorites are "Sewing with an Overlocker", aka, serger, " Sewing Knits", "Tailoring", "Sewing for Children" and numerous others. Each topic has it's own separate book. The great photography and clear lesson planning are consistent in all the different volumes. There is a logic to the chapters that makes so much sense as one skill builds on another. I still pull out my pants book and the serging book quite often. Concepts that are difficult to visualize and therefore understand in other books are clear as a bell in the Singer Sewing Books series. Highly recommend, again, a bit vintage but worth seeking out. You will refer to these a lot, promise.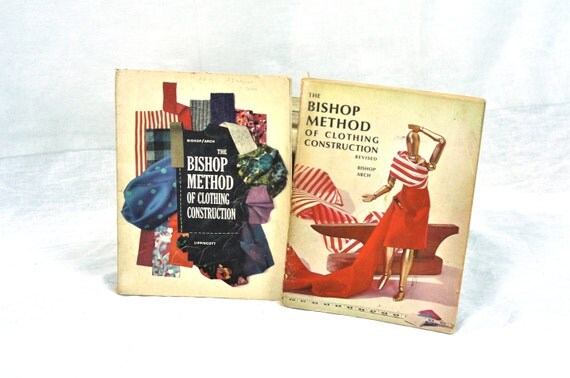 courtesy etsy.com
The Bishop Method of Sewing
by Edna Bryte Bishop is a classic that starts with the absolute most basic information. It is very logical in it's progression and by the time you are done reading the
Bishop Method
you have an amazing font of sewing knowledge to help you along. Bishop is the queen of GRAIN and will stress that every chance possible. She also teaches directional sewing. Mastering just those two subjects alone will kick your sewing up big notches.
The Simplicity Sewing Book(s)
These books were released periodically by Simplicity from the 1950s through the 1970s. They carry good solid information in a clear format. The big advantage here? They can be found very inexpensively on Etsy and Ebay. Search for your best price. These are worth having in your sewing library. I think the covers are a hoot. Love that price too! So much info for one dollar!
The Vogue Sewing Book
This book has had many reincarnations with the 1970 issue being the most desirable among the cognoscenti. This is a great solid reference that will take you from starter sewist to tailoring expert if that is where you want to go. You need a book like this on your shelf. It is a go-to reference that will not let you down when you have a sewing quandary. I highly recommend. Again, shop around for the best price. Look on Ebay, Etsy, Alibrus and Amazon used.
Our first post on "Next Level Sewing" is now complete. I hope you get the opportunity to put some of these sewing books into your library. If you are looking to jump out of newbie mode with your next garment, any of these recommendations can help take you there. Good luck! Thanks for reading and I hope you are able to follow along with this series. Until next Monday when we will discuss some really simple techniques that can make a big difference...............Bunny
Edited to add:
Reader Valerie, from France, high up in the Alps, has been kind enough to hook us up with links to some wonderful bilingual sewing books, some French and English, some available in Italian and Spanish as well. I would like to add her email to this lesson so our European sisters can have some excellent sewing references as well. It does sound like these books could benefit us all, however. Thank you so much, Valerie. Here is a note:
Maybe you will find something useful for you or your readers...
Kind Regards,
Valérie M........"
Again, thank you so much, Valerie, for your contribution to Next Level Sewing. We all appreciate it....Bunny
**************************************************
This was the last stretch of road, near my home, when I drove back from New Hampshire today. The blue cable on the left, actually a tube, is used to transfer the sap from the maple trees to a main "sugar house" where the sap will be boiled down to make maple syrup in the spring. A glorious fall day with a hint of chill in the air, perfect!.......... Bunny