So many patterns, so little time! On my last big purge of patterns, when we were talking about moving out of our last home, I purged over 400 patterns. Do I miss any of them? No. I managed to keep what I wanted. Just recently, as I've been stuck in a less active mode post surgery, I've been perusing my patterns once again. I find I am buying far less these days. I think I am buying more wisely and more specifically. Gone are the days of pattern hoarding just because they are cute or wonderful. Admittedly, my grandchildren are grown and I am out of that "buying for the future" stage. I do wish I had bought more Daisy Kingdoms at that time and I do wish I had bought every Issey Miyake pattern I every laid eyes on. Treasures both, and quite valuable today!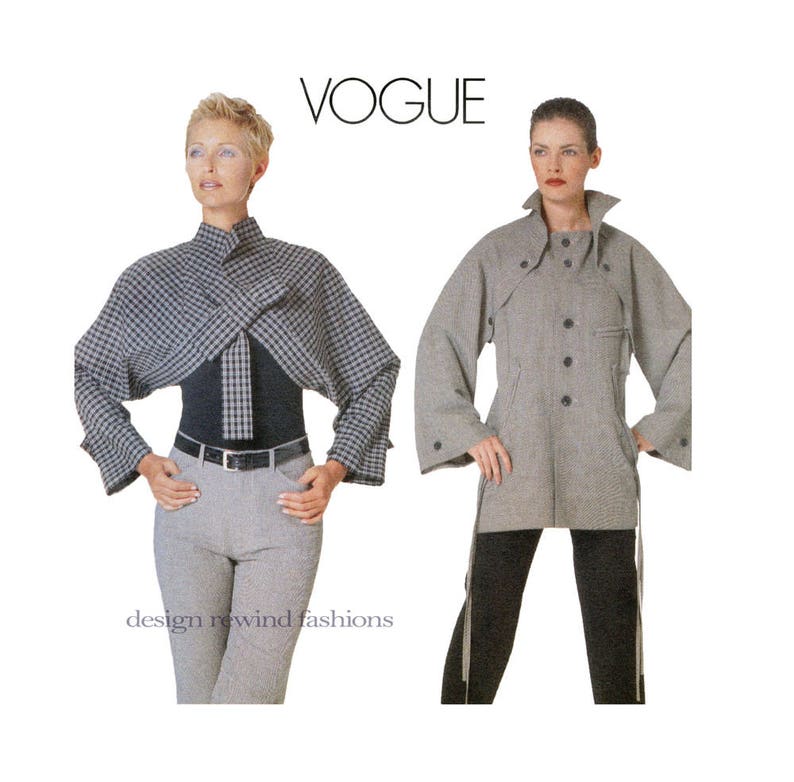 This one I have and so can you for a mere 140.00 on Etsy!
Going thru my current pattern stash of a far smaller amount than I used to have, I really came across only one that I will donate. That surprised me. I expected to pass on more than that. I have culled my resources to what seems to be a nicely working commodity. In going thru my boxes things became rather evident and I thought I'd share some thoughts with you, in particular about patterns worth seeking and keeping.
Vogue 9305 used to make this collaged top. Check out the link to the pattern.
Classics
These are the patterns I make over and over. They tend to be of very simple lines, easy to construct and easy to play with creatively. Important is that I am satisfied with the fit which is usually worked out with a muslin on the first go round and may be tweaked upon each further iteration, as weight comes and goes. These are the patterns that have the torn and turned edges on the pattern evenvelopes from all of their use. I eventually make oak tag or vellum copies of them as they get so worn from cutting and that works out really well. Examples of this are my Picasso pants, the Eureka top, the Button front skirt, the formerly McCalls and now Butterick work shirt and Vogue 9305 which I like to use for Collage.
Well known and loved sewist and blogger, Carolyn N. of Diary of a Sewing Fanatic, is a terrific practitioner of this method of wardrobing her sewing. Her myriad versions of the Myosotis Dress are enough to make your head spin with wonder and delight. I wonder how many she has actually made. She has other Classics as well that she develops over time into garments that ebb and flow with her fitting, work and lifestyle needs and changes. If you don't follow her blog to see all her sewing you must. Diary of a Sewing Fanatic.
One Garment, Multiple Versions
If you can latch on to a couple of these, one in pants, one in tops, you will need little else when it comes to patterns. These are wonderful. These are the patterns like Simplicity 8922 that give you one garment, perhaps a pair of drawstring pants, but with multiple looks.
There are four really unique hem band treatments on these pants or you can also just lengthen the leg portion of the pant for a great straight leg pant. I just finished a wonderful ponte pair, my first pair of rayon ponte pants and I love them. I've made them in a viscose as well and plan to make a leopard pair for the holidays. I've even used these to make pants liners.
Memory and Milestone Patterns
These are the patterns that one day, when your kids clear out your "stuff", they will find them and be triggered into a wonderful memory. It could be their wedding gown, their first formal, the silly Halloween costume you made when they were seven, or the funny hunting hat you made their dad. He looked silly in it but wore it anyway. You can't throw those out. I would suggest you make a little note about those and tuck it inside for the eventual new owner or just interested other who decides to take a look inside your memory pattern. It could make their day and bring some warmth to their heart. You can't purge these just yet, at least I can't.
Simplicity 2153, the one that won the Threads Fall Jacket challenge and got me a great new Juki serger.
There are also the patterns that, as Paul Anka so beautifully sang, light the corners of our lives. Your first woolen winter coat that you tailored to a tee with such pride. Maybe it's a Chanel jacket, one you learned in class from a reknown teacher and that you spent over a hundred hours on. Perhaps it was the first beautifully fitted, body snugging knit dress that so previously intimidated you. Could it be the first time you made a REAL bag, hardware, zips and all? Or was it your turn at hat making and the special pattern with all versions and views on it?
These can also be those great, challenging designer patterns from Vogue, maybe your first one. My first was my wedding gown. Wish I had that one! These are all milestone patterns, patterns that taught you valuable new skills that would bump you up levels of sewing knowledge. I have those and keep them out of sentimentality and a love of our craft. They remind me of where I came from and how far I've come. What was a milestone pattern in the early years pays dues to what is a milestone decades later. I keep them to keep my sewing feet grounded and to mark the sewing journey I've been on.
Patterns can mark the corners of our lives. Keep them as they touch your heart. Discard those that don't. Don't hesitate to put notes on or in them. Let the next owner know how this pattern affectd your life and maybe will theirs. Collect them to honor your favorite designers. It's always OK to collect special things and gifted designers deserve our honor. Enjoy your patterns and happy sewing............Bunny
The Stella Weekender from Swoon Sewing bag patterns.